"A Black Woman's Guide To Your White Thanksgiving" is the kick in the ass too many people need
If you're still reeling from the 2016 election results, your emotions are totally valid. But don't let your little pity party get in the way of actually standing up for what's right. Lady Parts Justice League (LPJL), a feminist comedy group dedicated to kicking women into gear when it comes to fighting for their reproductive rights, perfectly explains how to stand up to your family this holiday. The video, "A Black Woman's Guide To Your White Thanksgiving" is a funny-because-it's-true take on what it means to get out of that fucking pantsuit and go home for the holidays to deal with your racist, Trump-loving family members.
The video starts with a white woman, played by Molly Graebe, chasing frosting and chips with booze while listening to Saturday Night Live's Kate McKinnon sing "Hallelujah." Her black neighbor, played by Joyelle Johnson, who she doesn't even know, barges in and drops some truth: stop fucking whining about the fact that "white men" voted for Trump. It was over half of white women who put him in office, and people of color — black women especially — know this all too well. It's time to talk some shit back to those women, because you definitely know at least one.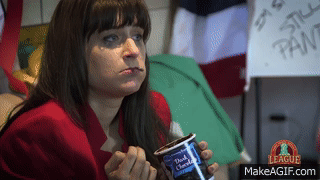 Johnson takes Graebe down the line of all of her Trump supporting family members and talks her through how to tell each and every one to fuck off and wipe out that white privilege side dish by side dish over Thanksgiving dinner.
There's Aunt Kathy who doesn't care about Trump's tax returns, brother Brian who voted for Gary Johnson, racist old Mee Maw, and even White Girl's mom who raised her to be a feminist but didn't care about the pussy grabbing comments. If this sounds familiar at all, this video is for you.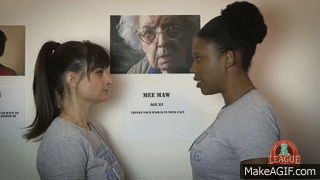 The video concludes with Johnson saying that the only way forward is for white people, especially the #StillWithHer white women, to get over themselves and start actually having the backs of marginalized communities that are actually going to be really, very, totally screwed under a Trump administration.
LPJL founder Lizz Winstead said in a statement, "We have let our own relatives slide on language we don't tolerate elsewhere and if we talk about intersectional feminism and inclusion, we need to fight back and call out bigotry when we hear it. No more stuffing our feelings during family gatherings. It's time to put those feelings into words."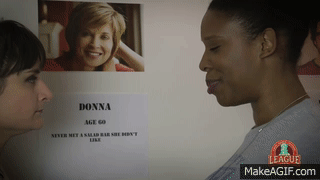 Some people really do need to be slapped out of their coma-like state, told to stop crying about the loss, and actually think about how that avoidance of uncomfortable conversations is exactly what got America here in the first place. And although Johnson's efforts are much appreciated, it is not up to women of color to spend the time and effort "schooling" white women on how to get their heads out of their asses.
In fact, asking someone to teach you the ways of the world only shows that you can't see past your own white privilege. Part of this "healing process," or at least really fighting back against white supremacists in the White House, also means acknowledging your own white privilege and checking your empathy levels. Sorry girl, you have a lot of work to do.
But the message is a good one, and this video breaks it down nice and simple for you: get over yourself and stop trying to keep the peace. And for fuck's sake, please stop listening to that Kate McKinnon cover.