Watch John Oliver Tell America What It's Missing Out On By Being Independent
The only downside to a holiday weekend is that I actually have time to watch my favorite TV shows, but none of them are airing new episodes because of said holiday. I was particularly excited to watch Last Week Tonight with John Oliver on Sunday knowing that I didn't have to do diddly-squat the next day. Alas, a new Last Week Tonight didn't air due to the Fourth of July, but Oliver bestowed us all with a small gift: a short video where Oliver reminds Americans what we're missing by being independent of Britain.
Next to the Queen Bee herself (Samantha Bee), Oliver holds the title of my favorite late-night host. Both him and Bee attack every subject with personal passion and humility alongside their super sharp wit. He's helped clarify what the fuck Brexit is, called all of those "according to science" articles out on their bullshit, and most impressively, he is genuinely funny on a consistent basis.
This time, Oliver claimed he made a video to wish us all a happy Fourth, but in fact he had another agenda entirely… "But I'd just like to take a quick moment to remind you of what you're missing out on by celebrating your independence," he said.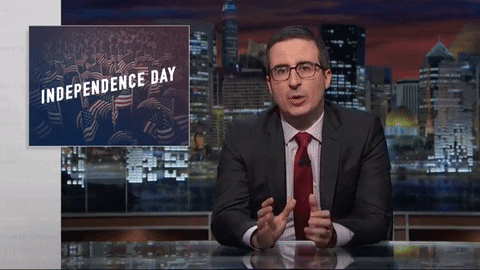 "First there's the matter of your accents. These beautiful vowel sounds could have been yours," he continued. Oh boy, here we go.
Utterly delightful, I say without a British accent, of course, because I am but a humble American. I am proud to be an American (for the most part), until I scroll down to the comments section. Here's an "utterly delightful" (still no accent, but this time I'm being sarcastic) comment left on this very video:
"Only in America a british guy can dare himself to talk like this whether it's comedy or not. Any other country would condemn this kind of people because people sacrificed themselves for the independence of their country. And that's why America is the worst country of all."
This makes very little sense. I know that and you know that.
This video is a reminder that we live in "the land of the free" and the comments on this video remind us that this isn't necessarily a great thing. Another comment reads: "Can England take his guy back? We don't want him here."
Speak for yourself seanofthedead90, we love Oliver!