White Supremacist Who Inspired Dylann Roof Calls Charleston 'A Preview Of Coming Attractions'
Piece of shit, Harold Covington is a rightwing science fiction writer as well as the founder of the white separatist group, the Northwest Front, which Dylann Roof mentioned in his manifesto, found after he committed his mass shooting atrocity inside of an all black Charleston church.
Covington's non-profit group is actually realized in the sci-fi books that he writes about. In them, he has designed a dystopian future in which a white nation is the only answer to US economic and racial woes. He makes Ayn Rand look tame.
In 1980, Covington called for North and South Carolina to secede from the US to form an all- white nation-state. This is terrifying.
Here is Covington in full neo-Nazi regalia: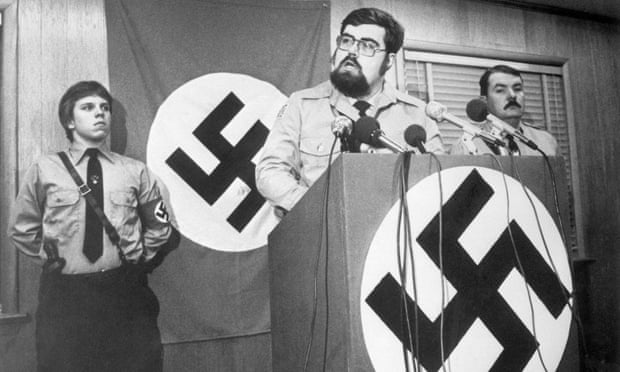 And finally, here is a full excerpt from his radio show that went up on the Radio Free Northwest website (his non-profit group's site):
"They've been given a vision of a time in some imagined but possibly not too-far distant future when all of a sudden, on the street or in their office, or in some trendy fern bar, or Starbucks, or wine-and-cheese boutique on the Upper East Side or in San Francisco, they will look up, possibly from the laptop, where they are typing up their day's quota of leftwing, liberal horseshit, and they will see a young white man like Dylann Roof standing in front of them with no steroid-pumped policemen in blue to protect their liberal candy asses from the consequences of years of their own behavior. They will see in that young white man's eyes, that he recognizes them. That he is now beyond deception or bullying or browbeating or Twitter-shaming or intimidation, that he knows them for what they are. And they will look down and see that he has something in his hand."
This kind of hate is in our own backyard. This is what bred the likes of Dylann Roof.